Introducing the COVR-C1203 Seamless Wi-Fi System, the seamless Wi-Fi solution that's the perfect fit for your modern home. It features three high-performance Covr Points that blanket every square inch of your home with high-speed AC1200 dual-band Wi-Fi as well as two onboard Gigabit Ethernet ports (per unit) for wired connectivity. With Covr, you enjoy Wi-Fi that's stable, consistent, and truly seamless. With COVR-C1203, D-Link has got you Covr'd.
Covr Your Whole Home With One Seamless Network
Gone are the days of only being able to use Wi-Fi in certain areas of your home. Thanks to revolutionary Smart Roaming technology, the Covr Seamless Wi-Fi System continually scans the wireless signal strength to your devices, automatically connecting them to the strongest signal available. The Covr Seamless Wi-Fi System handles the transfer seamlessly, allowing you to walk from room to room without experiencing dropped VoIP calls or frozen video streams.
High-Speed Wired and Wireless Connectivity
With COVR-C1203 you can bring the full potential of Wireless AC speeds of up to 1200 Mbps1 to any area in your home, including dead spots. Each Covr Point creates its own exclusive high-speed Wi-Fi zone for communication with your wireless devices, allowing you to fully experience demanding multimedia applications from anywhere in your home.
MU-MIMO and Smart Steering Technology
The COVR Seamless Wi-Fi System features multi-user multiple input, multiple output (MU-MIMO) Wi-Fi, which transmits multiple separate data streams to each wireless devices simultaneously to increase speed and efficiency. Enjoy increased throughput and seamless high-definition streaming media, Internet phone calls, online gaming, and content-rich web surfing throughout your entire home or office with COVR.
Key Features
Smart Steering automatically directs your devices to the optimal wireless band
Three Covr Points for more coverage around your home
Smart Roaming seamlessly connects you to the strongest signal as you move
Dual-Band Wireless AC1200 MU-MIMO Wi-Fi Technology
Configure your network using the free D-Link Wi-Fi mobile app or the easy-to-use web-based interface
Intuitive setup wizard to guide you through the configuration process
Advanced parental controls via the D-Link Wi-Fi mobile app
Control what devices are connected, set access schedules and create guest networks – You're the boss.Quick
D-Link COVR-C1203 AC1200 Dual Band MESH System 3-Pack | Ultimate WiFi | Simultaneous Dual-Band 1,200 Mbps | Smart Steering: Automatically directs devices to optimal bands | MU-MIMO | Smart Roaming: Seamlessly connects to strongest signal as you move | Gigabit Ethernet | Intuitive Setup with D-Link WiFi APP
Details
Network Device Type – Mesh Router
Data Speed (Mbps) – 1200
Frequency Band – Dual Band (2.4/5.0GHz)
Wireless Range – For Medium to Large Homes
Ethernet / LAN Ports – 2
Wi-Fi – 802.11 ac
WPA – True
WPA2 – True
Manufacturer's Warranty – 3 YearsFeatures
Dual Band Whole Home Wi-Fi SystemCOVR-C1203HIGH PERFORMANCEWith high-speed AC1200 Dual-Band Wi-Fi, and 11ac Wave 2 with MU-MIMO, COVR-C1203 is fast enough to support multiple devices undertaking everyday data-intensive tasks like HD streaming and video chats simultaneously. Perfect, if you're just starting out in whole-home networking.MORE COVERAGECOVR-C1203's three discreet units cover up to 5,000 sq. ft. – enough seamless Wi-Fi coverage to eliminate pesky Wi-Fi dead zones in houses of different sizes and configurations.ONE SEAMLESS NETWORKWith Covr, there's just one wireless network name (SSID) for your entire home, no matter where you are. You'll never have to remember usernames and passwords for different networks in your home ever again.
Details
Network Device Type – Mesh Router
Data Speed (Mbps) – 1200
Frequency Band – Dual Band (2.4/5.0GHz)
Wireless Range – For Medium to Large Homes
Ethernet / LAN Ports – 2
Wi-Fi – 802.11 ac
WPA – True
WPA2 – True
Manufacturer's Warranty – 3 Years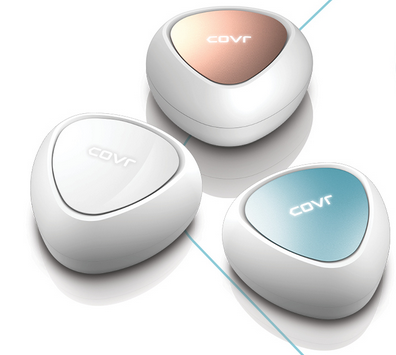 Delivery Returns Delivery Delivery
Our aim is to exceed customer expectations. Items are dispatched from our Warehouse in Sydney within 48 hours of purchase. All items are shipped through Australia Post or Leading Courier services with free return shipping if the item is damaged or DOA. All items will be shipped out within 12 ? 24 Hours if the product is in stock in our warehouse. We will notify you via email of any delays. All items will be shipped by courier and signature is required on delivery of goods.
Full Delivery