Some homes just don't get good WiFi. Others have so many wireless devices vying for bandwidth they can bog down the network and make everything sluggish. Still others struggle when they're asked to broadcast signals to remote rooms. If any of these WiFi issues sound familiar, BOOST can help your Sonos system stream music flawlessly.
Sonos is the wireless Home Sound System that fills as many rooms as you want with great-sounding tunes.
Sonos speakers set up easy. Stream via WiFi. Play whatever you're craving. And amp up every moment with intense, pulse-pounding sound.
It's a new, better way to fill each day with the sounds you love. One that will make that place you live feel even more like home.
Separate. Not equal.
BOOST creates a separate, dedicated wireless network for use by Sonos, so you can enjoy all your music all over your home without interruption. By creating its own network, BOOST eliminates interference from other wireless devices on your existing WiFi and allows you to stream music wirelessly with superior reliability.
Stream to any room.
BOOST has three internal antennas that broadcast in all directions–even through walls and ceilings. That way the music reaches all the rooms where you want it.
No sweat.
Plug it in. Connect it to your WiFi router using the Ethernet cable provided. You're done. You don't have to have BOOST to set up a Sonos speaker. but it's good to know it's there if you need it.
Key Features
Reliable. Streams without interference in the most challenging WiFi environments.
Bypasses your temperamental WiFi to create a separate high-performance wireless network just for Sonos speakers.
Broadcasts 360° signals through walls and ceilings for flawless coverage.
Simple setup. Connects directly to your router.
Sonos Boost
Apple Music | Sonos
Sonos BOOST
Tiny accessory. Big wireless performance.

BOOST plugs into your home router to create a dedicated wireless network for your Sonos system that provides reliable wireless performance when your home WiFi network doesn't reach all of the rooms where you want music or just isn't reliable enough.
Once you've created a dedicated network, you can use additional BOOST units to extend the range of your Sonos system or even provide an internet connection to other products in your home using the built-in Ethernet switch.

Highlights

No skips, delays or drops – even in homes with wireless problems
Comparable broadcast strength to expensive enterprise-grade routers
Offers complete, 360-degree signals through walls and ceilings
Neutralizes network interference from other wireless devices
The Smart Speaker System

Sonos speakers combine built-in sensors and smart software to make your listening experience easy. Every speaker is simple to set up, no technical skills needed. Regular software updates with new features and services ensure your speakers just keep getting smarter, for as long as you own them

Sound you can feel Sonos speakers are built to fill your home with pure, immersive sound.
With Trueplay, every song you've ever loved, or ever will, becomes a richer listening experience. Fresh sonic details emerge. You hear all your favourites, old and new, in more dynamic and vivid ways. And connect with your music on a deeper, more intense level. With nothing tweaked. And nothing lost.* For your Sonos PLAY:1, PLAY:3 and PLAY:5. Works with iPhone and iPad only.
One App Does it All

The free Sonos app gathers all your favorite music and streaming services in one place. Use your smartphone or tablet to quickly find the songs you love on your streaming services or in your own digital library, then choose the rooms where you want to listen and control all the playback settings room by room.

All Your Music, In Any Room


Play different songs in different rooms, at the same time. Or one great tune all over the house. With Sonos, everyone enjoys the music they love most, in any room they wish.
Desicated Sonos Wireless Network

For homes where WiFi isn't reliable
Connect any Sonos speaker or BOOST to your router.

This automatically launches a separate wireless network.
Connect Sonos CONNECT to your speakers. Use the free Sonos app to set up BOOST.
Non-Sonos devices use WiFi and Sonos uses this separate network, eliminating interference and increasing range.
Enjoy music in every room, in perfect sync.
Details
Device Type – Multiroom Speakers
Portable Audio Type – Wireless Speakers
Manufacturer's Warranty – 1 Year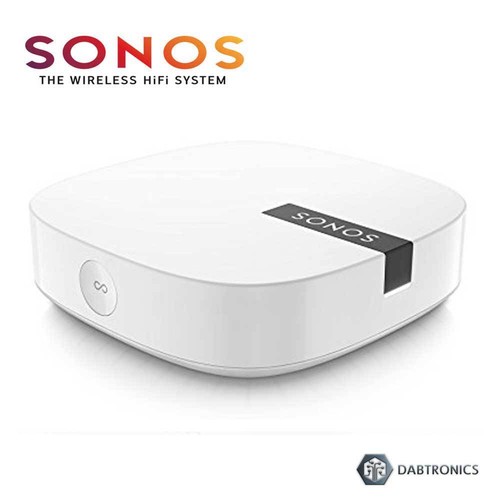 Delivery Returns Delivery Delivery
Our aim is to exceed customer expectations. Items are dispatched from our Warehouse in Sydney within 48 hours of purchase. All items are shipped through Australia Post or Leading Courier services with free return shipping if the item is damaged or DOA. All items will be shipped out within 12 – 24 Hours if the product is in stock in our warehouse. We will notify you via email of any delays. All items will be shipped by courier and signature is required on delivery of goods.
Full Delivery